Rover P6 Bits n' bobs
---
The heading to this page used to say:
This is definitely not yet another Rover car web site!
but the page has grown, more and more odd bits of information have slowly crept in and in the end, I noticed this page was getting more hits than any of the other pages and web sites hosted on this server ... So I've now decided (September 1999) to put a bit more effort into it as some of you obviously think it's worth visiting (?)
These pages started off as a sort of "digital playground" or "on-line sandbox" for batting about ideas and pictures from the Roverworld Mailing List and were not meant to represent anything in particular. In time, they might develop into something more substantial but for now, it's basically a test bed for on-line experiments such as the Rover Parts Database (see below) that can't be hosted on ordinary web servers; [this server has some enhancements such as a variety of database servers and support for server-side scripting languages such as PHP3].
Visit Reg Mason's Classic Rover Web Site, the P6 Drivers Club or Archie's ArchieTech "hands on" web site if you want to see some proper on-line Rover resources. Thomas John used to have a stunning site at http://www.rovingsociety.com but this seems to have become an entirely different kind of site now (thanks to Chris Hogan of Australia for bringing this to my attention - this page used to have a link to this site); Ruediger Wicke now has a very interesting site which is also the only known databases of all P6 Rovers. Or you can visit my own little site which is desperately in need of updating but it's nowhere near as good as the others. No point in me trying to re-invent the work of others so I won't even try to catch up and create another old Rover site - much as I would like to!
Er, what have I just said ?

Borg Warner 35 automatic transmission manual now on-line
You can find the official Borg Warner workshop manual for the model 35 automatic transmission fitted to some P6 and P6B cars on-line here - the pages have been scanned at 75 ppi resolution which is ideal for downloading and printing onto A4 paper.
At the moment, there are no fancy navigation aids - just a plain clickable listing of all the pages, which are organised as follows:
covers.jpeg - the front cover of the manual

frontis.gif - the frontispiece

page1.gif .... page74.gif - the manual pages

pageI-1.gif - the index page at the back
You can also download the whole manual as a single ZIP file; be warned - it is a big file!
Rover Parts Database
During a discussion in the Roverworld mailing list in January this year, an idea surfaced for an online database of cross-referenced parts numbers, the idea being you could have a Rover part number, type it into a form on your favourite web browser and back would come the corresponding Land Rover, Girling, Lucas, etc part numbers. This is very useful as there are many known cases of identical parts being listed in both Rover and Land Rover parts catalogues but with the Rover part costing twice or even three times as much!
Unfortunately, owing to pressures of other work on my part, this project has been considerably delayed but I'm glad to say the first version is now available for you to play around with. It works but some work remains to be done to improve the way the information is displayed on the screen - for example, LUCA_PT_NO would be better expressed as Lucas part number!
Please try this out and mail your comments to the Roverworld mailing list; at present, the content of the database is very small so if you know of any equivalents to Rover part numbers, please mail them to either Roverworld or directly to me.
P6B Expansion tank conversion
P6B's never had a radiator expansion tank as a standard fitment and they are prone to loss of coolant when the engine is stopped when hot. What happens is the water pump no longer circulates the water and the steady accumulation of heat in the cylinder heads at the top of the engine that continues for a while after the engine is stopped turns some of the water to steam which is eventually ejected through the radiator cap along with some of the coolant.
I recently bought an expansion tank kit from Ray Weekley and early in May, I fitted it to my 1972 P6B. This diagram shows how the expansion conversion works: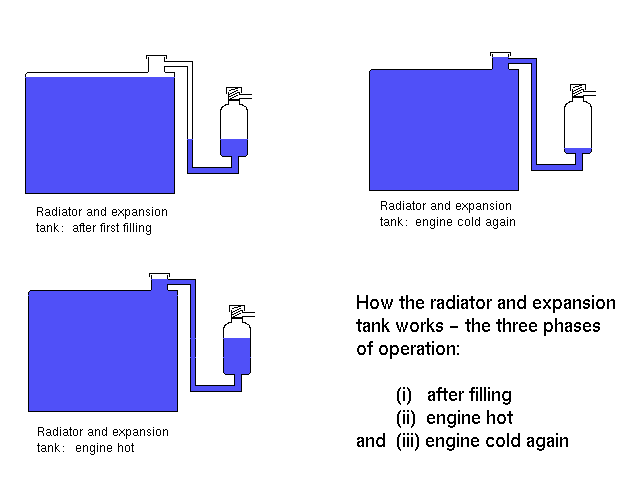 and here are some photos - please accept my apologies for the poor quality but I made the triple mistake of fast film, a different film processor and a cheap scanner ... Never again!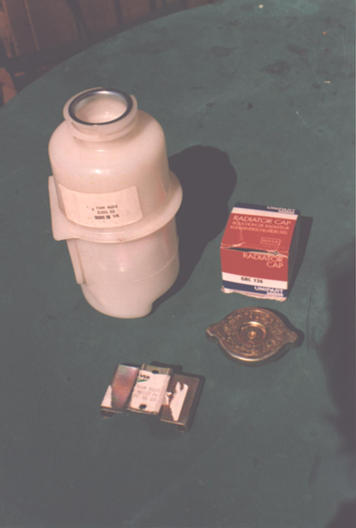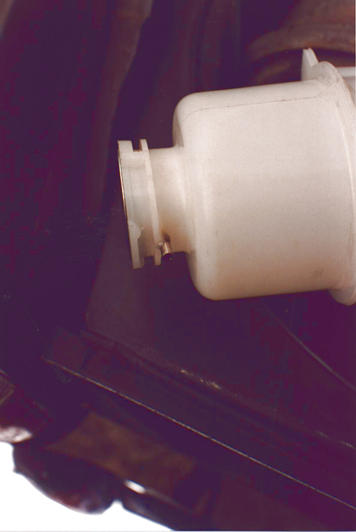 (above) the kit as supplied by Ray Weekley
(above right) I Araldited a nickel-plated brass tube into the overflow hole in the neck of the bottle
(below) two views of the the expansion bottle in my car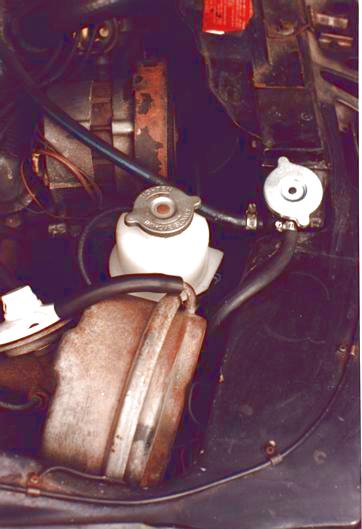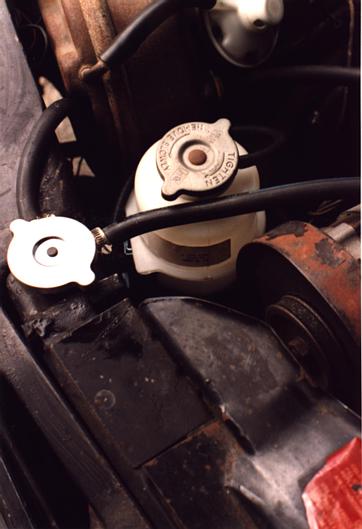 Coming soon ...
... pictures and technical details of an engine bay electrical supply modification to provide a vastly improved supply to heavy current items such as headlamps and cooling fans, while reducing the current load on the existing wiring and switchgear. Also, an improved electric cooling fan system based on an existing Kenlowe fan unit.
Sample ideas and pictures from other Roverworld members
Here are a few pictures posted to the Roverworld mailing list by some of its members - these are in no particular order and there isn't even a layout for this page ... I'm just cobbling pictures together for all to see. (You can also see my own 3500 or look at my cars pages).
Converting a P6B to EFI ...
Reg has sent us some stunning pictures of his EFI conversion project ... the car that will receive this special treatment, the existing standard SU HIF6 carburettor set-up and here's the new inlet manifold and plenum chamber. These are superb pictures and I hope we get more of them.
Registration form for RoverCar Database
Have a look at this proposed registration form for the Rover car database and tell us what you think. You can also see a sample page from Archie's Workshop Manual.
Here's another idea for a registration form from Archie.
ArchieTech
The ArchieTech "hands on" web site is now up and running!
Sample pages from the P6B Parts Catalogue
Here are two pages scanned from the 1973 Rover 3500 parts catalogue (British Leyland publication RTC 9022) - these relate to the rear brake disk and caliper.
detail of rear caliper
description of parts shown on first drawing
---
Andy Thomas, for the Roverworld mailing list
to my personal pages
Page last updated September 9th, 1999