Jensen 541R
---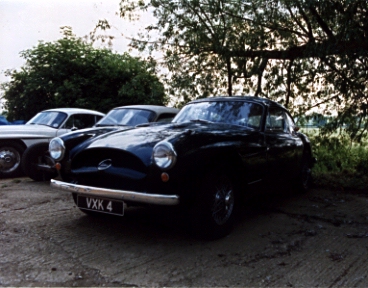 This is what the 541R is supposed to look like - the one in my garage is in a really sorry state with not much to see but piles of rust and rotted wood and boxes of parts ...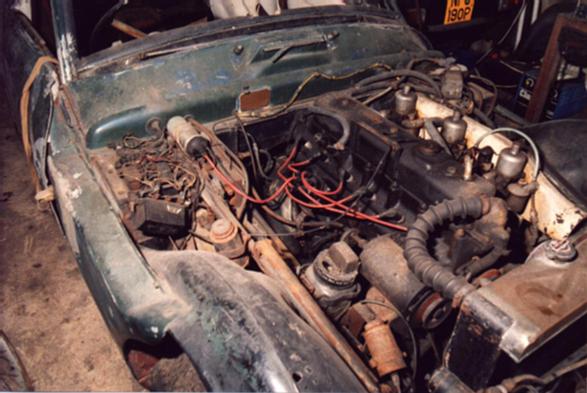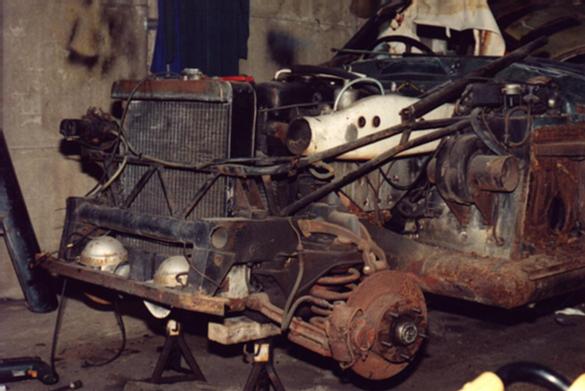 I'm doing the chassis restoration and mechanicals on this 1957 car for a friend - when I've finished, the car will return to Wimbledon for painting and re-upholstering.
Like all cars made by the Jensen brothers, the mechanicals came from a variety of sources - in this case, mainly Austin. The engine - which appeared in a number of Austin vehicles of that era including lorries and hearses - is a big, heavy, all-cast iron 4 litre straight-six fed by three big carburettors sitting in a row on top - plus a fourth for starting!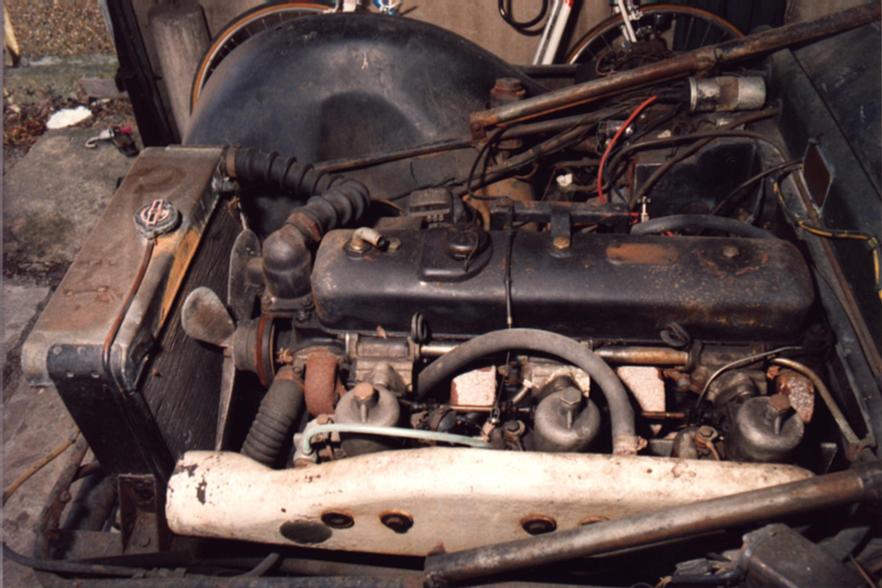 The rest of the running gear came from the Sheerline Princess limousine, and assorted trucks and buses. In spite of such a heavyweight pedigree and a strong chassis, it is quite light at around 1 ton since the body is made of glass fibre with aluminium doors. Although it's a roomy 4-seater, the 2-door body style and long bonnet makes it look smaller than it really is and more like a sports car.
Designed to run on post-war 'pool petrol' (which in today's 'star rating' terms means something like 0.5 star!), the engine has a very low compression ratio - 6:1 - so it doesn't produce all that much power. But owing to low body weight, the acceleration is good and top speed is somewhere around 120 mph.
I was hoping to have the rolling chassis back on the road about two years ago but didn't really get to spend more than a few days working on it. There's a lot to be done - no drawings exist for the car and there's scope for a fair amount of imagination over what parts of the chassis used to look like - there's nothing left now! Some time ago, Cropredy Bridge Garage, a specialist in Jensens and their repair/restoration, had an open day and I went up and took lots of photos of two 541s being restored there, plus one for sale in the car park (that's the one you can see above). And yes, that's the same Cropredy near Banbury where they have that jazz festival ...
I'm taking time off in the summer of this year (1999) to really get going on this project and hopefully should see it rolling down the fair green lanes of Palmers Green this autumn.
---
Back to the car collection| main page

Andy Thomas, May 27th, 1999.